shape defects such as center buckle and edge wave in coil strip by selectively bending the work rolls. B&K® Corrective Levelers utilize a series of relatively small closely spaced leveler rolls that incorporate roller back-ups to prevent deflection. This arrangement allows the material to be worked beyond the yield point to remove trapped material stresses. The result is material that is more stable so that part quality is consistent. The material thickness range and the materials yield point determine the Roller Leveler work roll diameter.
Precision B&K
®

84" 1.75 Leveler integrated into an existing Line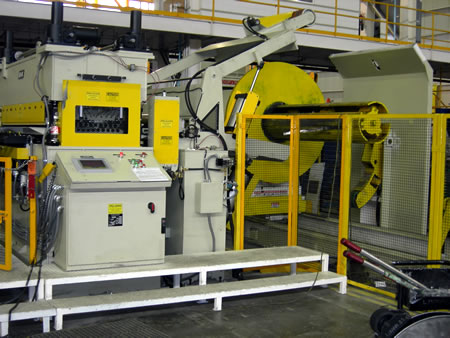 A Precision B&K
®
84" 1.75 Leveler was integrated into an existing Press Feed Line for a Tier one manufacturer of automotive components. The spread-centered flattener/straightener that was originally sold in the press feed line could not meet the part quality requirements. To replace the flattener/straightener and integrate a B&K
®
Precision Leveler into the existing line required a custom Hold-Down Peeler-Threader and a Custom Consolidated Control Package including pushbutton controlled thread up. The Engineers from the Formtek Maine plant were able to design a control that would not only run the Precision Corrective Leveler but also control the existing equipment in the Press Feed Line. A multi-color diagnostic touchscreen interface provides operator prompting of threading procedures, a maintenance schedule with service points for the entire system, on-screen digital roll position readouts, and in-depth diagnostic fault messages with recommended remedies. The advanced engineering design of the B&K
®
backed-up roller leveler makes this unit a "one-operator" piece of equipment. The ease of operation reduces the need for operator skill, making for a better end product. B&K
®
provides models for most gauge ranges, for applications in sheet leveling, parts leveling, cut-to-length lines, and other process lines.
B&K
®

60" 1.156 Precision Corrective Leveler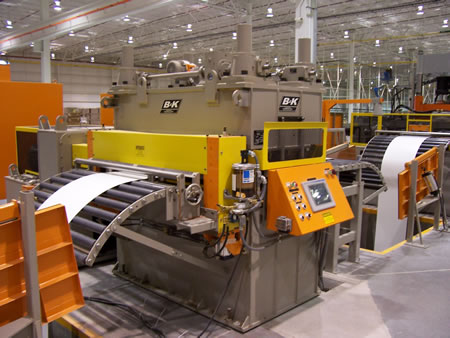 A B&K
®
60" 1.156 Precision Corrective Leveler was integrated into this CWP Press Feed Line to produce first operation leveled blanks directly from coil. A 4-post hydraulic press was utilized for in-line notching and punching. Leveled parts that can be produced on this type of system range from refrigerator doors, washer and dryer panels to commercial or residential doors.